The 60% format keyboards contain 61-62 keys and are ultra-compact. The size is a little more than half of a full-size keyboard. Therefore, they can easily fit in a backpack or a bag and take up little space on the table. Their peculiarity is the absence of F-keys, numpad, arrows and system functions block above them.
The 60% size is chosen not only because of space saving. Many users simply do not need the numpad and the cursor arrows above it. Others don't feel comfortable reaching for the PageUp and PageDown keys or Esc. Gamers prefer 60% keyboards because of the small size, so that there is more space for mouse control.
The best 60% keyboards
In this selection we have collected the best small keyboards for different user needs. Most of them are made by gaming and popular brands. Each has its own unique features, but what they all have in common is that they all help to minimize the space taken up on your desk.
Key features of the presented keypads
The following characteristics will help to compare the devices with each other. Considered the best small keyboards: their main parameters for transportation, work and personal preferences of users.
| | | | | | |
| --- | --- | --- | --- | --- | --- |
| Model | Switches | Backlight | Arrows | Weight | Connection |
| Razer Huntsman Mini | Razer switch | Yes, RGB | No | 520 g | wired |
| Anne Pro 2 | Gateron, Kailh | Yes, RGB | No | 635 g | wireless |
| Ducky One 2 mini | Cherry MX, Kailh | Yes, RGB | No | 590 g | wired |
| Velocifire M1 TKL61WS | Outemu | Yes, Blue | Yes | 740 g | wireless |
| HHKB Hybrid Type-S | Topre silent | No | No | 500 g | wireless |
| Vortex POK3R | Cherry MX Red | Yes, Blue | No | 770 g | wired |
It takes time to get used to the 60% keyboard layout, but then you'll feel all the benefits of the small size.
Be prepared that all keyboards have mechanical switches with different depths of operation and a distinct sound – louder than the membrane keyboards. Some have a distinctive click, while others have a soft click. Pay attention to this aspect so that your keyboard feels and sounds comfortable when you use it. .
Best keyboards 60% – a short review
When choosing keyboards for the rating, we were guided primarily by our own feelings, and for more information we studied reviews of owners of the selected models.
Razer Huntsman Mini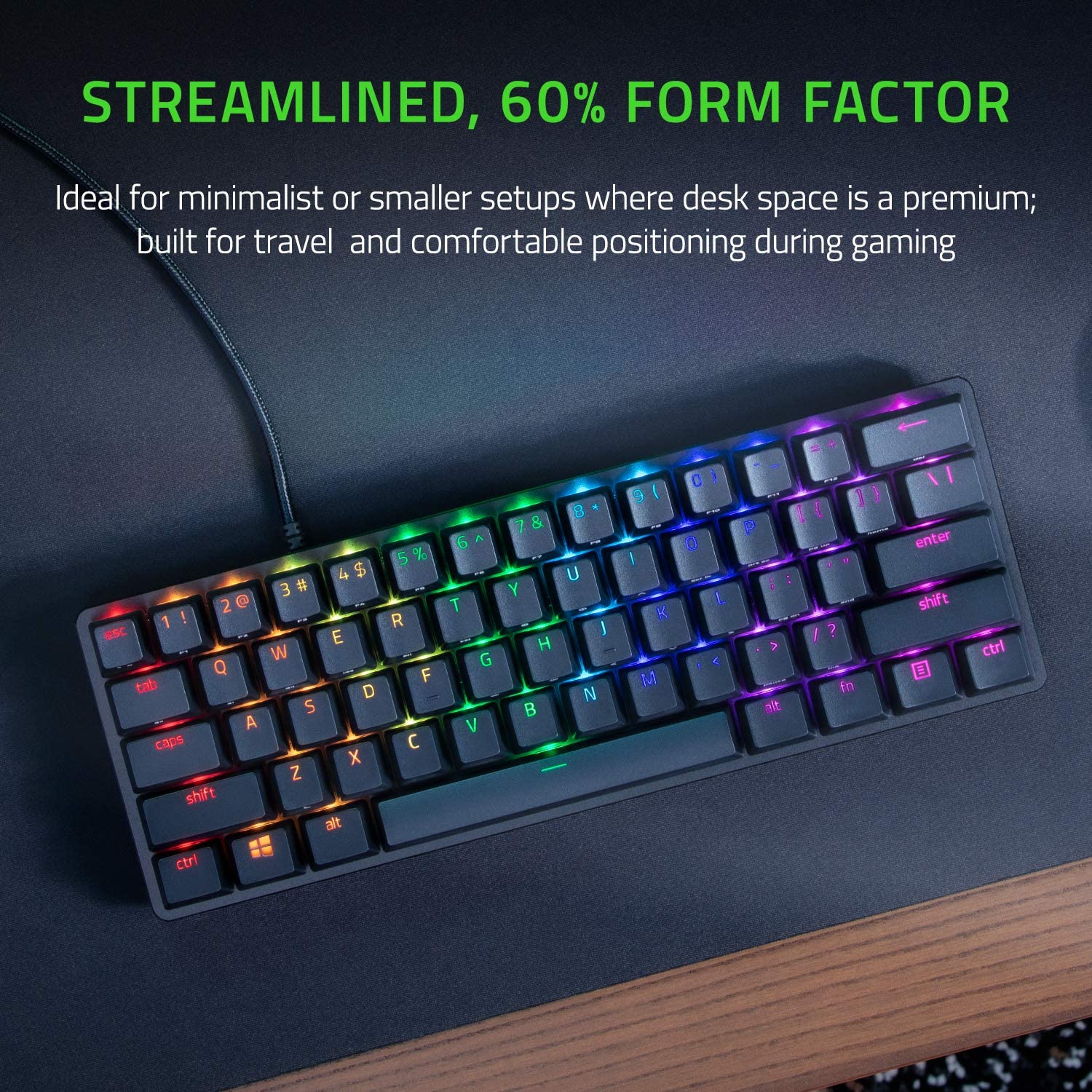 A compact and reliable keyboard designed not only for stationary, but also for mobile use. Thanks to its compact size, you can carry it around with you and put it in the pocket of a backpack or bag. Built-in multi-mode backlight will be a joy to use, especially in the dark. Press Fn+Ctrl+1-7 (the keyboard has seven backlight modes) to control the backlight.
The keyboard case is plastic and has a nice roughened surface. The number of keys is 61, which is standard for this size. If you look from the side, the keys are located U-shaped, which makes typing even more comfortable. The keys do not click loudly when you press them, and the transmission is lightning fast – precisely for this quality Razer keyboards are valued by players of all levels. All of this is achieved with the Razer Switch optical switches designed specifically for gamers.
The connection is made through a detachable USB type-C cable. Wireless mode in this keyboard, unfortunately, is not provided. But the weight of the device is 520 grams. This is one of the great advantages that allows you to easily transport the device. The keyboard also boasts a long service life. Each switch has a lifespan of 100 million keystrokes.
Pros
Very fast key response time
Compact size
The plastic is pleasant to the touch and the typing feels good
Backlighting in any mode is a pleasure.
PBT keycaps
Cons
Obins Anne Pro 2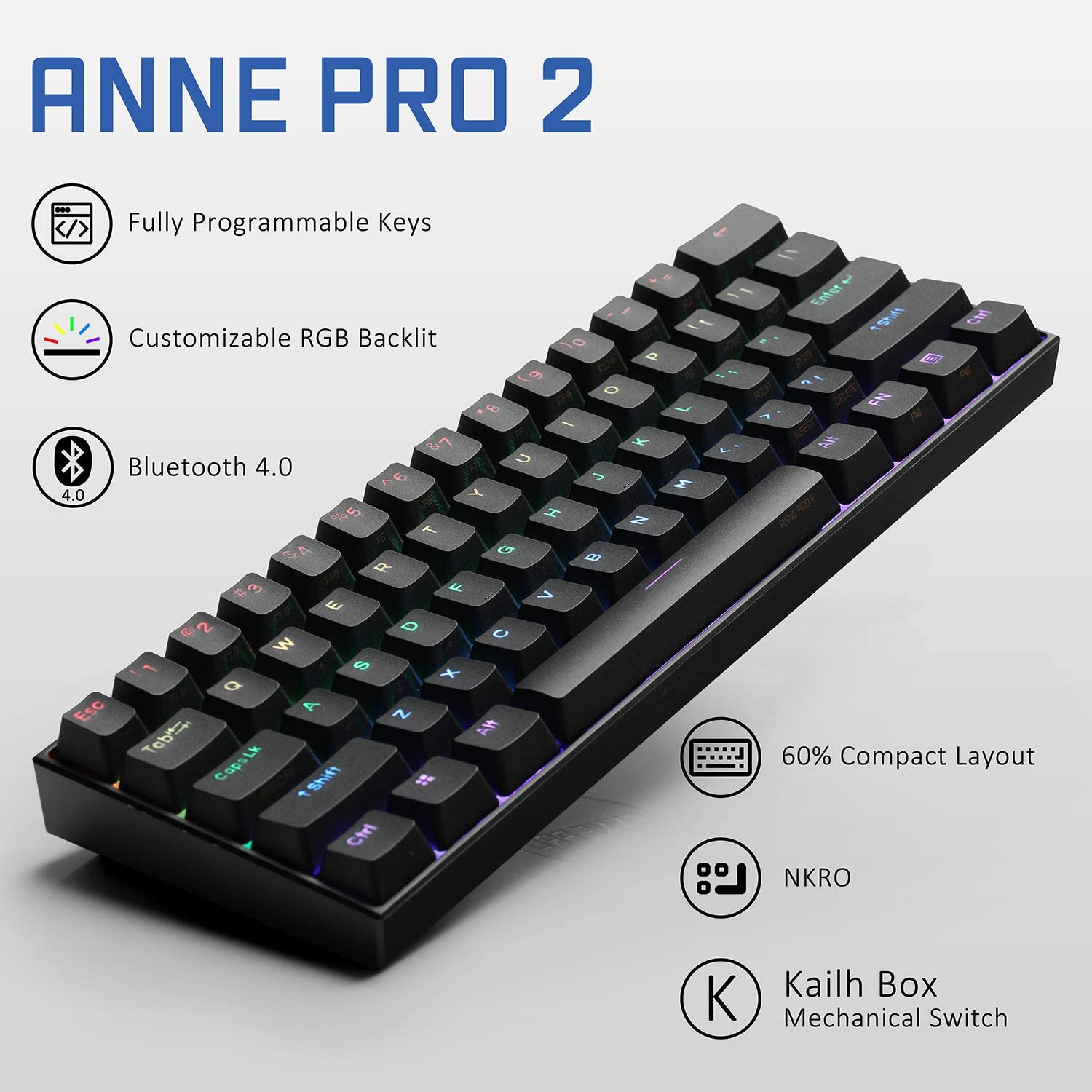 Considered to be the best option for typing. The first thing we want to note in this model is its case. It is made entirely of metal, and this is good – firstly, for weight (the heavier the keyboard, the less it moves on the table), and secondly – for reliability. There are no folding legs on the case, and in general there is no way to raise it, unless you put something underneath. The bottom panel is flat, only quite small feet of soft rubber protrude. The keyboard is powered by the integrated lithium-ion battery.
The keys are made of dull PBT plastic. There's not a single key area on the keyboard that's unnecessary – every millimeter of the keyboard is put to good use. Six types of switches (switches) that can be installed on the keyboard are responsible for the tactile feeling: blue, brown, red Gateron or Kailh brown, red and white.
Another plus will be the ability to connect the keyboard both via Bluetooth and by wire using the included USB type C cable. This feature allows you to work in different conditions and on different types of devices. In this case, the built-in battery has a rather modest volume: 1900mAh. Active working time: up to 10 hours.
Pros
Wide choice of switches
Nice backlight
Ability to work via Bluetooth
PBT keycaps
Cons
Ducky One 2 mini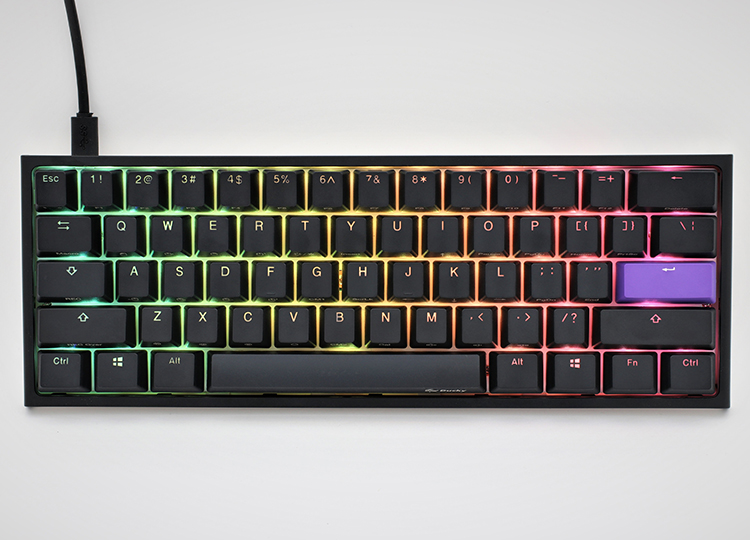 Deservedly considered the "golden mean" among the presented options. Equally suitable for gaming, programming and typing large amounts of text. Keyboard case is made of high quality PBT-plastic, no metal parts in the case. This played positively on the keyboard weight, but negatively on the durability level. The problem is not critical, but a case made only of plastic cannot boast of high durability.
As switches are found HyperX, TTC, Gateron, Kailh and Cherry in different colors. So, only the last manufacturer has options of black, brown, blue, red, silver switches. At the same time black and red can be found in different shades. Kailh even has original combinations: copper, lettuce, purple. The switches also boast the absence of loud clicking noises when you press them, which makes the tactile experience more pleasant.
All keys are backlit, which works in several modes, and the settings allow you to change both the intensity and the color scheme. There are 3 backlight modes available: tri-color, single-color, and "striped". On the bottom of the keyboard there are 4 toggle switches which allow you to: lock "Windows" key, switch NKRO/6KRO, switch the VID of the manufacturer and switch the demonstration mode of the device.
Now let's go to the main drawback. The case is made in the standard for Ducky "curved" around the edges. As mentioned above, it is plastic, and for this reason it noticeably "plays" when you press it. This causes a rather unpleasant creaking, which can irritate many users.
Pros
Great choice of switches
Comfortable typing
Controllable key backlight
Extra caps included
Cons
Plastic case
Poor quality fit of the case parts
Velocifire M1 TKL61WS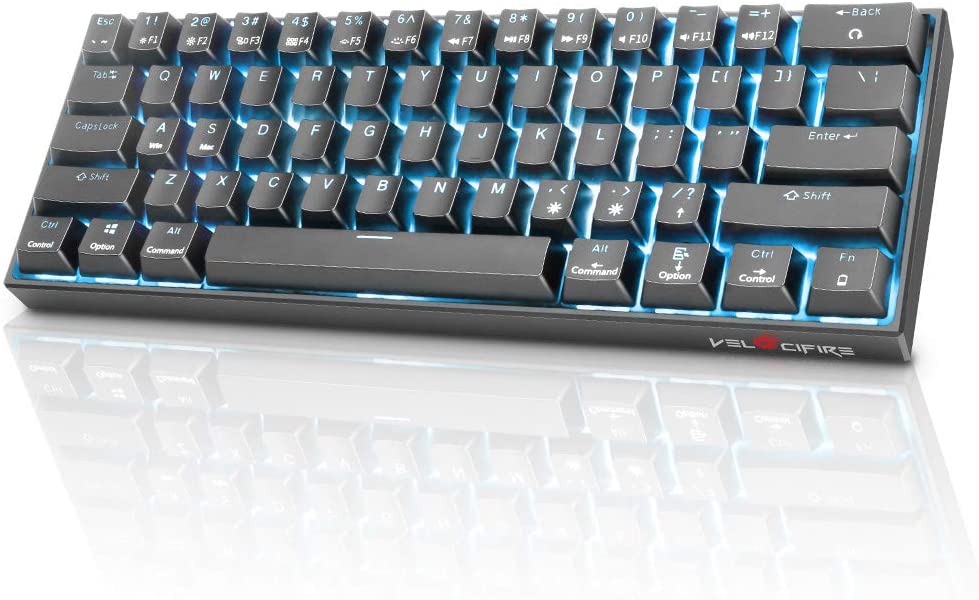 The best of the budget variants of mechanical keyboards. Developed in China, it has earned recognition almost all over the world – first of all, thanks to its low price. But this keyboard has a lot to catch your eye. And the first is the Outemu brown switches, which are optimal for typing large amounts of text and for gaming. Of course, the switches are replaceable, but even with the native switches, the sound remains at an acceptable level, and the tactile sensation is at a high level. Not bad for a budget Cherry MX clone, right?
Let's take a closer look at the case. It is made entirely of ABS plastic, which has a nice surface. The plastic does not rub and does not shine with time, retaining its original appearance. Just like in other gaming keyboards (this producer positions his products as gaming ones) keys are made with a certain angle to the middle.
The backlighting has 17 modes. Switching is done by simultaneously pressing "Fn + I/O/P". Also an added benefit of the keyboard is compatibility with Mac and Windows operating systems. "Fn + A/S" allow you to change them.
It is not superfluous to mention that the device is connected to the computer both via Bluetooth and by wire (which is used to charge the battery). The number of simultaneously connected devices can be up to 3. Switching between them is done through a bunch of keys "Fn + Q / W / E". Also an advantage of Bluetooth in this keyboard is the range. The connection is kept up to 8 meters distance between the connected devices.
The battery is also worth mentioning. Thanks to its 1800 mAh capacity, the keyboard can work for about 16 hours on a single charge in active mode. In passive mode the battery life can go up to 32 hours. In addition, a low battery notification function is available. It is manifested in the flickering of the Fn keypad.
From the obvious drawbacks stands out only the strength of the case. Namely the fragility of its plastic. So, if handled carelessly, defects are possible. Therefore, it is necessary to be careful in the exploitation of the keyboard.
Pros
A soft backlight with a lot of modes;
Low cost.
Quiet enough switches;
The possibility of using both wired and wireless version;
Cons
Rather thin plastic body.
HHKB Hybrid Type-S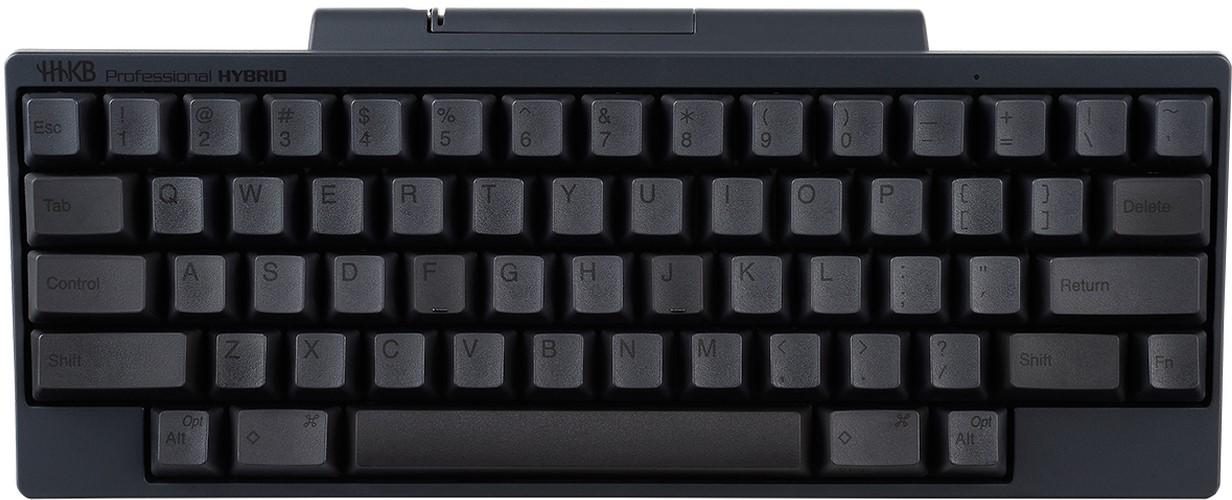 A great option for programmers and users who spend a lot of time typing in the blind method. From the factory it comes without key marks – users can both customize it to any layout, and set each key to a specific function. The keyboard also has keycaps designed to make typing more comfortable, as well as slightly modified non-standard placement of the Shift, Alt, and squiggle keys. The "Windows" keycap is missing by default. The stroke of the keys is only four millimeters, and there is practically no sound of the switch actuation. This is due to the special design of Topre switches, equipped with an additional silicone membrane for silencing the sound.
This keyboard can be connected in two ways – via Bluetooth module, installed in your PC or laptop, or via USB cable. For convenience, the keyboard is equipped with a USB type-C port that allows you to connect a wire of any length for your comfort. When in wireless mode, the keyboard is powered by two AA-format batteries, providing up to three months of work.
Keyboard housing is made of high quality PBT plastic, which retains its original appearance for a long time. When you press the keys, the case does not bend and does not make any unpleasant sounds, and overall gives the impression of a monolithic construction. And to give you the best typing inclination, the keyboard legs are equipped with feet that can be set in three positions.
Pros
High-quality build quality
Fully programmable keys
Virtually silent operation with soft key travel
Adjustable keyboard position
Cons
High keyboard price
Unusual positioning of Shift, Alt and squiggle keys
Vortex POK3R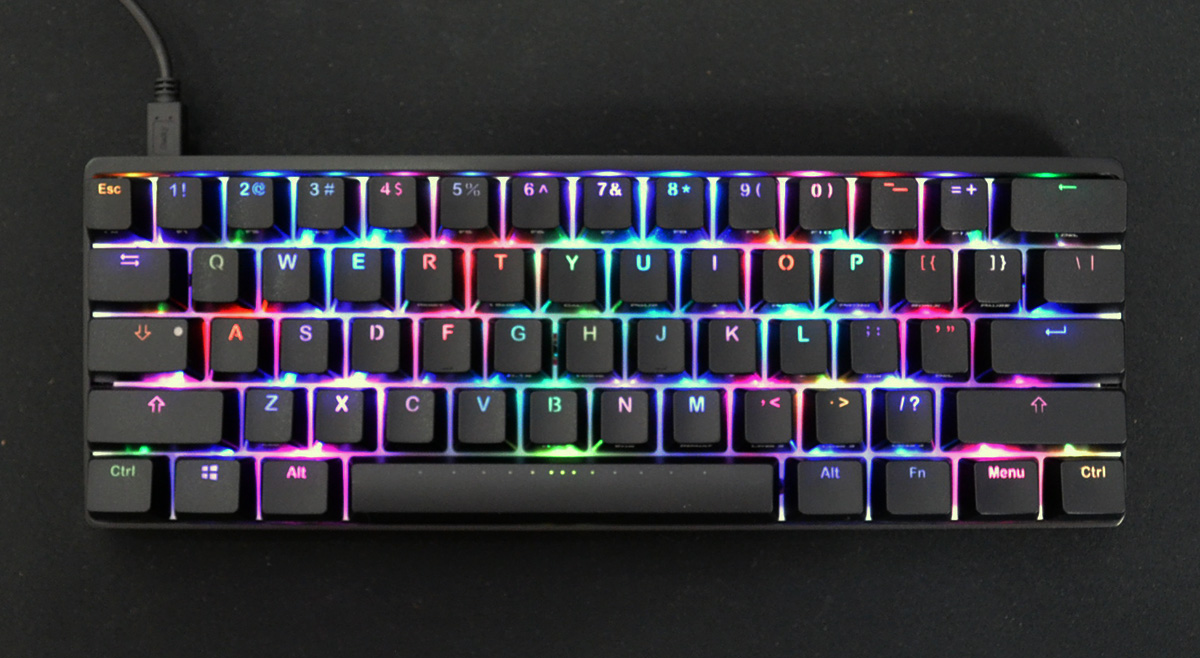 One of the quietest keyboards with traditional Cherry MX mechanical switches. The switches are available in different colors: green, red, blue. Originally designed as a gaming keyboard, it is nevertheless versatile. It is suitable for non-professional gamers, programmers, copywriters and writers. The keyboard is connected to your PC via a detachable USB cable. From the viewpoint of versatility, this keyboard is a good quality middle class gaming tool.
Keyboard case is much more organically designed than the previous model. There is almost no free space. The case is made of high quality plastic that is ready to take a lot of shock loads, the lower part is made of pretty thick aluminum sheet. The keys are made of two types of plastic – the usual ABS, but if you want to buy separate caps, it will be PBT plastic, distinguished by increased durability. The keyboard is equipped with adjustable RGB backlight, which can be both set to a pleasant mode for the eyes, and turn it off at all.
Pros
– Durable design of the case made of plastic and metal;
– Unbreakable" keys;
– Many different macro settings;
– Adjustable backlighting;
Cons
– Relatively low speed of operation of sensors;
– High weight of the device;
Advantages of 60% keyboards
The first and most important advantage is size. It frees up a lot of space on your desktop, the keyboard no longer competes with the mouse. Also worth mentioning is the ease of use. There is no need to reach for the F1-F12 row, functional buttons Delete, Home, PgUp, PgDown.
At the same time, manufacturers have not forgotten about the users who need these keys – some models have a set of keyboard combinations that allow you to repeat a particular function key. Another advantage is a small mass of these devices, that allows carrying the keyboard even in medium-sized pockets of backpacks or bags.
Disadvantages
The disadvantages of mechanical keyboards 60%:
Unfamiliar layout of the keys for some users. For gamers and people working with text information, this device may seem inconvenient at first. For example: for the same arrows by default, "I/J/K/L" is more often responsible. There are also combinations of keys with Fn. Plus, everything can always be customized for the individual. However, long-term habits are bound to give themselves.
The need to memorize new combinations of hot keys. Due to the small size and different location of the keycaps, the usual commands are performed differently. For example: the task manager on some keyboards can be invoked by pressing: "Ctrl+Alt+Fn+Backspace". The function of the "Delete" key is executed as "Fn+Backspace".
Conclusion
Having appeared in the early days of computer technology, such keyboards slowly but surely continued to occupy their niche – at first they were highly specialized terminals, controlled only by text commands, then, with the advent and development of personal computers such keyboards began to fade into oblivion. But after about 10 years, the company Fujitsu-Siemens resumed production of such keyboards for server terminals under Unix-systems, and within a few years of such keyboards entered the "civil" market.
Today, the range of such devices is huge. The list of models is counted in tens: from more budget-friendly manufacturers like Bluefinger to huge cost producers like HHKB and Tex Keyboards. As you can see: some users like keyboards without cursor arrows, as well as without system keys. Each model is unique and carries its own features, but they all have one thing in common – the ever-growing 60% format mechanical keyboards.